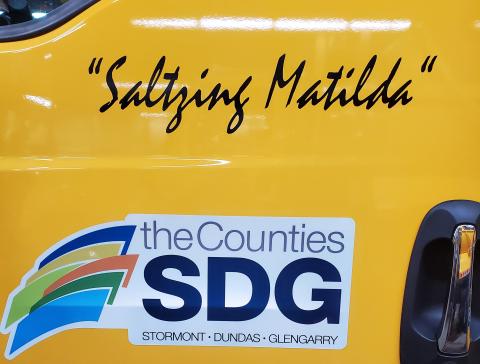 THE COUNTIES, Ontario – The Counties' newly named snow plows are ready for all that winter has to offer.
Earlier this year SDG asked the public to help name the snow plows operated by the Counties to add a little bit of fun to a season that brings with it plenty of snow and ice.
Lettering is now being affixed to plow doors so that the names will be easily recognizable by the public.
"The response we received from the public was overwhelming," said SDG Director of Transportation Benjamin de Haan. "We've succeeded in our goal to add a little bit of colour to the work we do on behalf of local residents and visitors to our community."
In all 16 SDG plows were named this year. The names include:
Plowy McPlowface
For Your Ice Only
Clan MacPlowed
Truck Norris
Rhinestone Plowboy
Storm-ont
Glengarry Lochness
Dundas Demon
David Snowie
Snow Way Jose
Avonmore Ace
Glen Salter
Saltzing Matilda
Mountain Goat
Maiden o'Moulinette
Stormin' Glen Norman
Residents can use the snow plow tracking app on our website to check on the snow-cover status of Counties roads in SDG. The app alerts individuals to how long it has been since a particular county road has been plowed. It can be viewed y clicking this link: Snow plow app.