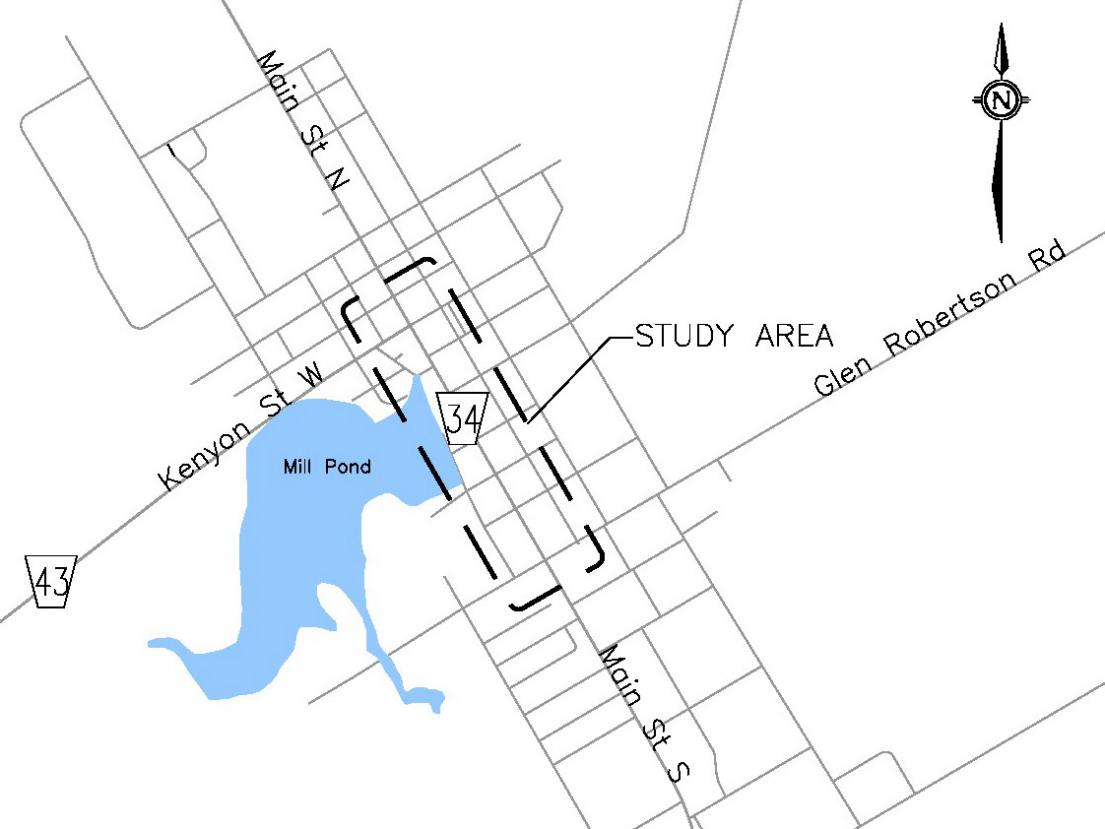 County Road 34 (Main Street) and Mill Square Improvements – Public Information
The United Counties of Stormont, Dundas and Glengarry has completed a Municipal Class Environmental Assessment (EA) study concerning improvements to County Road 34 in Alexandria
The study area includes County Road 34 (Main Street) from County Road 10 (Lochiel Street) northerly to Elgin Street, and Mill Square in downtown Alexandria. The study has developed and evaluated alternatives for the roadway cross section, intersections, active transportation features, and drainage, and has determined the property requirements to implement the project.
This study has been completed as a Schedule A+ Municipal Class EA, based on the range of anticipated effects. The recommendations of a Schedule A+ Study are pre-approved for construction and additional studies for a truck bypass have been identified to be completed by the United Counties of SDG at a later date.
Public Consultation to Date
An origin-destination survey, pedestrian and parking utilization survey, value planning workshop and community café have been completed as part of the study to provide input to the design process.
Preliminary Study Recommendations
The Recommended Plan includes the following improvements:
Narrow road cross section with 3.2 m lanes, 2.0 m sidewalk, parking pockets, and decorative lighting where space is available
Interim and ultimate truck bypass routes
Add pedestrian push button at Kenyon Street West/County Road 43
No Right on Red at County Road 34 and County Road 43
New one-way road with parking from Main Street to Ottawa Street
New walkway from Main Street to parking lot off Centre Street
Mill Square improvements including a narrow roadway and space for a parkette/ farmers market
Improve parking lot directional signage
Designated No Truck Route (requires permanent upgrade to existing truck bypass)
Bury utility poles on Main Street from Kenyon Street West/County Road 43 to Gernish Street East
New pedestrian crossing at Gernish Street East
New parking lot at Gernish Street East/Main Street (property acquisition is required)
Potential new sidewalk along Gernish Street and Derby Street East to link to Mill Pond/Alexandria Island Park
Online Public Information Centre
Public Information Centre exhibits including the Recommended Plan and Landscape Drawings are available for public review. Please download and review the documents posted below.
Frequently Asked Questions