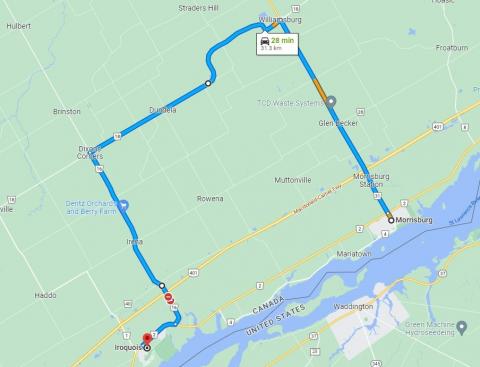 UPDATE:
As of Aug. 11 crews have begun to erect a coffer dam at Doran Creek to help facilitate the project. A contractor has even been hired to remove fish from the creek to minimize the impact to wildlife. Next week will see the actual replacement of the aged culvert. Crews have a deadline of Aug. 22 to complete their work, barring unforeseen complications. If things go well next week, County Road 2 could open ahead of schedule. Check back for updates.
THE COUNTIES, Ontario - In August the United Counties of Stormont, Dundas and Glengarry will undertake a culvert replacement on County Road 2 in the Municipality of South Dundas.
This project, which is expected to last 14 days starting on Aug. 8, will have a significant impact on travel between Morrisburg and Iroquois in South Dundas. A lengthy detour must be created to facilitate the flow of traffic.
The detour includes County Roads 31, 16 and 18.
While County Road 2 will be closed at Doran Creek, local traffic will still be able to use the road during the replacement project. 
Below we have attempted to answer some of the more common questions associated with this project. If you have more specific questions, please email info@sdgcounties.ca.
Why is SDG moving ahead with this culvert replacement at this time?
The culvert was flagged for replacement by SDG's biennial bridge and large culvert inspection program in 2021. The culvert does not have many years of service life left before it becomes a risk.
Why do we have to close the entire bridge?
Culvert replacements are difficult to stage. Closing only one lane is problematic because excavation on one side of the road undermines the infrastructure on the other side. Widening the road to provide an open lane further away from the excavation is both costly and environmentally unfriendly.
Why is the detour so long?
The Counties road network is designed to accommodate heavy truck traffic, whereas most township roads are not. This location does not benefit from having another set of County Roads nearby, thus a larger detour is required. Due to the fact that this location is on the Provincial Emergency Detour Route, it is possible that the detour will be subjected to significant amounts of heavy truck traffic. TSDG has pre-consulted with the OPP to ensure that police are on-hand to direct traffic along the detour if the EDR is called into use.
Can we expect the work to wrap up before, or after the 14-day deadline?
We can expect the work to wrap up before the 14-day deadline. Incentives to complete the work before the deadline have been placed in our agreement with contractors.
When was the last time the culvert was replaced?
The current pipe was installed in 1980.
How long will this new culvert last?
The new pipe is expected to have a service life in excess of 100 years.