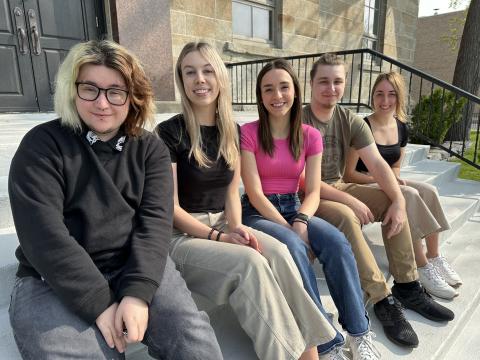 THE COUNTIES, Ontario – Tourism season in SDG Counties is in full swing!
With the sun shining, the trees blooming and blue skies from Morrisburg to Alexandria, SDG Tourism is pleased to announce that as we transition into the 2023 tourism season in our region there is some exciting news to share.
2023 TOURISM AMBASSADORS
Visitors and staycationers can count on the SDG ambassadors to help them with everything from finding the most picturesque cycling route in the Counties, to helping to change a bicycle tire.
Jake Bedard, Hannah Chisholm, Sydney Walker, Owen Russell and Ellie Adams are the new Cycling Tourism Ambassadors employed this summer by the United Counties of SDG. Their main duties will include patrolling the waterfront trail and providing mobile visitor services experiences, greeting visitors, responding to inquiries, and promoting the SDG region.
In the past our ambassadors have even helped a cyclists change a deflated tire.
"Our cycling trails are the envy of many communities across Ontario," said Karina Belanger, SDG Counties tourism coordinator. "Our students have completed their training and will be spending much of their time interacting with visitors and cyclists to showcase amenities in and around SDG."
The students are looking forward to the balance of the summer and helping individuals visiting SDG or enjoying some time close to home. If you see them on the trails, or attending tourism amenities in our region, give them a wave!
HISTORIC SDG JAIL REOPENS FOR 2023
The ghosts are waiting for you at the Historic SDG Jail! This popular tourist attraction, located at the County Administration Building at 11 Water Street West in Cornwall, reopens for tours beginning May 25.
Guided tours of the jail, hosted by our 2023 Tourism Ambassadors, take place Thursday through Sunday, at 10 a.m., 11 a.m., 1 p.m., 2 p.m. and 3 p.m. No appointment is necessary.
REGIONAL TOURISM GRANTS AWARDED
Nearly a dozen local tourism amenities will share $40,000 in funding thanks to the 2023 SDG Regional Tourism Grant program.
The program is an important initiative that aims to encourage and promote local tourism experiences and attractions.
The successful applicants include:
St. Lawrence Valley Agriculture Society ($3,900)
Priest's Mill Arts Centre ($1,900)
Arts on the Waterfront ($2,350)
Raisin Region Conservation Authority ($4,750)
Eastern Ontario Maple Syrup Producers ($2,350)
Kenyon Agriculture Society ($1,000)
Downtown Winchester Committee ($4,750)
Friends of the Summerstown Trails ($4,750)
Mountain Township Agricultural Society ($4,750)
Glengarry Mental Health Initiative ($4,750)
The Hub for Beyond 21 Foundation ($4,750)