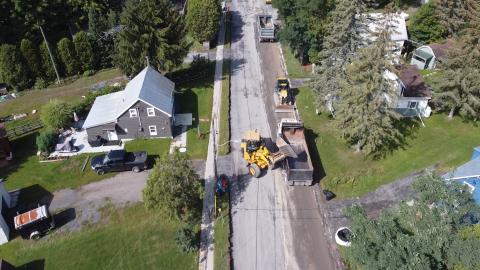 THE COUNTIES, Ontario – Thanks to a surplus in funding, some $700,000 is being invested by the United Counties of Stormont, Dundas and Glengarry in improving transportation in Martintown.
Approximately 350 meters of County Road 18 in Martintown is being reconstructed. This work was not planned in 2021, but because of funding surpluses SDG's Transportation Department made the decision to invest the money in an important reconstruction effort to a busy Counties thoroughfare.
"This was an easy decision," said Transportation Services Director Benjamin de Hann. "When we receive additional funding from sources like the federal gas tax program, it's important to reinvest that money in projects that make it easier for our residents and motorists to move about our region."
The reconstruction project includes:
Full depth reconstruction of the roadway (removal of old material and addition of new granular base and sub-base).
New storm sewer/catch basins and manholes (various locations).
New curbs.
New asphalt.
The project is scheduled to be completed by the end of October. Traffic is being accommodated through the work site, and there is no impact to adjacent property owners.