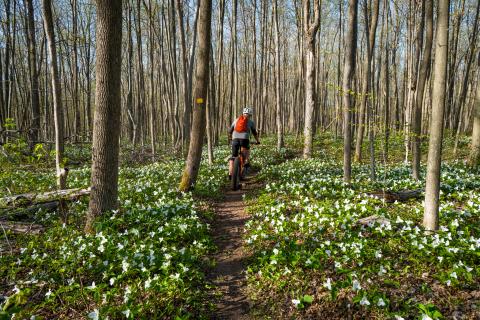 THE COUNTIES, Ontario - The COVID-19 spike in traffic at the trails at Summerstown Forest has not slowed down. Over the last year, 22,613 visitors were recorded at the trails via a 'people counter' installed at the popular County attraction.
Once known as a winter playground for cross-country skiers and snowshoers, the trails are now a popular site for year-round activities, including the addition of fat biking trails. Trail users, however, do not require special equipment to enjoy the trails. Exploring the trails on foot is also a great way to step into nature and enjoy the beauty of the forest.
Summerstown Forest offers 30 kilometres of trails which are mainly owned by the United Counties of SDG, with a smaller parcel owned by the province.
"Conserving forests and offering recreational opportunities to the community are very important to SDG. We are grateful for the Friends of Summerstown Trails (FOTST) and their efforts to maintain and enhance the trails," said Benjamin De Haan, Director of Transportation and Planning.
The FOTST, a volunteer organization, maintains the trails year-round and offers various events and programs for the public. TheAnnual Family Day Event and various races held throughout the year are popular initiatives. FOTST also offers beginner learn-to-ski programs for all ages taught by certified instructors.
"We could not accomplish all that we do without the dedication of our volunteers and the support of our members, donors and partners," said FOTST president, Vic Leroux. "We always welcome additional support from anyone looking to help us maintain and enhance the trails."
For more information on FOTST membership, programs, and trails, visit https://www.summerstowntrails.com/.
The trails are located on Summerstown Road, 1.6 km north of exit 804 of the 401.