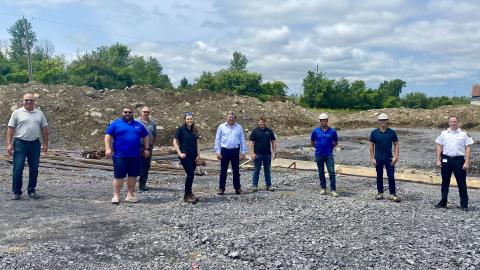 THE COUNTIES, Ontario - On June 30, 2021, construction began on the long-awaited public works facility on Airport Road, south of Highway 401 at Summerstown Station. This is a South Glengarry project.
Building a new $1.4-million facility is a significant investment and takes many years of planning before shovels are in the ground.
"Council is committed to making smart investments in our community that benefit all of South Glengarry," said Deputy Mayor Lyle Warden.  "This new facility will offer more efficiencies to our Public Works department which will help to provide quality service to all residents."
The new modern design will allow for more efficient operations, as most of the Public Works fleet and material storage will be located on the same property.  When construction is complete in October 2021, there will be 10 township employees that will be based out of the new building.
"The entire facility was designed with the future in mind," said Tim Mills, South Glengarry CAO.  "The addition of the new building will meet our needs today and allow for further development in years to come."
The new 11,500 sq.-ft. facility will consist of 10 garage bays, a public works administration office and training room, as well as staff washrooms and a lunchroom.
"Being local to the area we're very appreciative of the opportunity to help contribute to the expansion of services to the community in which we work and live. Our goal is to deliver quality service and value to support the continued growth of South Glengarry," said Sheldon Wells, Project Manager from Grant Marion Construction.