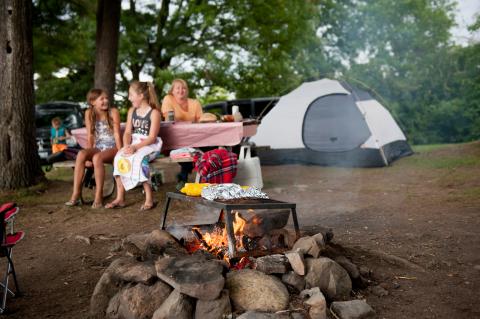 THE COUNTIES, Ontario - Ready, set, camp!
The Raisin Region Conservation Authority (RRCA) is inviting residents to connect with nature during this year's camping season, as the campground at Charlottenburgh Park – one of RRCA's three Conservation Areas – recently opened its online reservations.
To book a reservation click this link: rrca.on.ca.
"We look forward to welcoming campers and day-use visitors when the Park opens for the season on the Victoria Day weekend in May," said RRCA Administrative Assistant, Josianne Sabourin, who looks after the park's administration. "We encourage campers to book their sites early, as we are expecting another busy camping season this summer."
Returning campers will notice enhancements completed by the RRCA such as the addition of water and electrical service to several lots, new gravel pads for trailers, a new parking lot for visitors, and strategically placed wayfinding signs and markers throughout the park's six-kilometre system of nature trails.
"This new signage is designed to help campers and day-use visitors confidently enjoy our trails, while being minimally obtrusive to the natural environment," said Sabourin. "It's been great to see visitors use the trail map signs as they plan their excursions."
Daily and monthly campsites can be reserved online. Seasonal campsites have already been reserved for 2023. For online booking support, please contact Josianne Sabourin at Josianne.Sabourin@rrca.on.ca or 613-938-3611 ext. 221. 
PARKS OF THE ST. LAWRENCE
The Parks of the St. Lawrence online reservations website opened for reservations at 9 a.m. on Feb. 23 for the 2023 season. Campers were able to book for any time of the season at nine Parks of the St. Lawrence campgrounds, which line the shores of the St. Lawrence River from the 1000 Islands Bridge U.S. border crossing to the Quebec/Ontario border. By the end of the first day of sales, there were more than 6,000 reservations in the system.
Demand was high, with campers storming the digital doors at opening time. Between 9 and 9:30 a.m., there were 3,945 unique visitors to the site, peaking at 2,289 visitors right at 9 a.m., and by 10 a.m., there were already more than 4,500 reservations made for the summer.
Click this link for parks commission reservations: Parks of the St. Lawrence