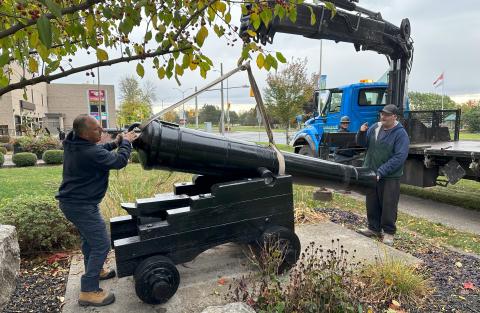 SDG COUNTIES, Ontario - A pair of cannons dating back more than 200 years have been refurbished and once again stand post in front the SDG Counties Administration Building in Cornwall.
The cannons have been a fixture on the SDG Counties property at Pitt and Water streets in Cornwall for decades, and every so often require a little bit of a face lift.
One cannon is a Carron 24-pound gun, dating back to 1807. The other is a Walker & Co., 24-pound gun of the same era and type. The last time the cannons were fired was to mark SDG Counties 150th anniversary in 2000.
Over the years the cannons have been sandblasted and repainted regularly, but the wooden naval gun carriages that they sit atop require more intense refurbishment. The wooden bases only last about 10 years, before deterioration and the massive weight of the cannons become a problem.
The cannon bases were built by the Matross Detachment (DMat) - a group of volunteers dedicated to the preservation, restoration, cataloging and interpretation of Canadian war memorials, primarily artillery. It took about a year for the new bases to be completed and the cannons reinstalled.