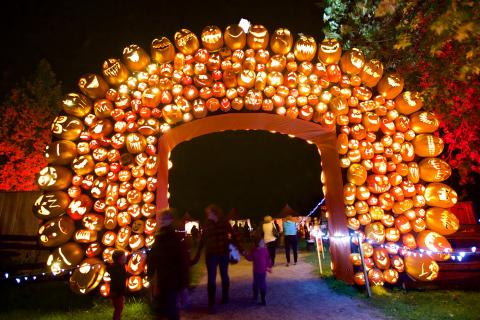 THE COUNTIES, Ontario - As leaves begin to turn and kids head back to school, it can only mean one thing… the pumpkins are coming!
St. Lawrence Parks Commission (SLPC) is excited to welcome back the fan-favourite Pumpkinferno event to both historic Fort Henry in Kingston and Upper Canada Village in Morrisburg, beginning Sept. 30. Starting Sept. 6 guests can book their tickets for either (or both) experiences online.
Pumpkinferno is a luminary experience for all ages, a mesmerizing installation of more than 7,000 handcrafted, glowing artificial pumpkins set up along a curated self-tour path against historic backdrops. When the sun goes down, the daily 19th Century life fades away and both Fort Henry and Upper Canada Village are transformed into enchanted wonderlands of brilliant pumpkin sculptures ablaze under the night sky.
With 10 seasons under their belt, Pumpkinferno is already a signature event at Upper Canada Village and is quickly becoming a signature event at Fort Henry. The Fort benefits from the Village's pre-eminent expertise on artificial pumpkin carving. Last year, the 10th season of Pumpkinferno in Morrisburg drew 43,000 visitors to the Village and the debut of Pumpkinferno in Kingston brought in 35,000 visitors to the Fort.
This year, Upper Canada Village will debut seven brand new exhibits, the most in any year since its inaugural year. New exhibits include Lovers' Lane, featuring famous couples; fantastic beasts and mythical creatures in Legendary Lore and several others. With 21 exhibits in all, many fan-favourite exhibits return this year including flapper girls in the The Roaring 20's and the music filled pumpkins of Mercury in Retrograde. 
Fort Henry will also have seven new exhibits in its experience, totalling 21 exhibits within the Dry Ditch, including a new custom display immortalizing current and long-time leader of the Fort Henry Guard, Mark Bennett. New themes also include Creatures of the Current, superheroes in Power to the Pumpkins and much more. The Parade Square's interactive zone will feature family friendly activities, a game show and of course, more pumpkins!
Tickets for both sites went on sale at 11 a.m. Sept. 6 for purchase online and will not be available at the door. Pumpkinferno begins Friday, Sept. 30, and runs nightly for the month of October.
Fort Henry - forthenry.com/event/pumpkinferno/
Friday, Sept. 30 – Monday, Oct. 31
Tickets are sold in 30-minute entrance timeslots beginning at 7:15 p.m. until 9:45 p.m. for shows before Oct. 20. Oct. 20 and after, timeslots begin at 6:45 p.m. Event closes at 10:15 p.m. throughout the run.
Tickets are $20 + HST (Children 0-4 FREE)
Backgrounder with full details: https://www.parks.on.ca/pumpkinferno-returns-to-kingston-for-2022
Upper Canada Village - uppercanadavillage.com/event/pumpkinferno/