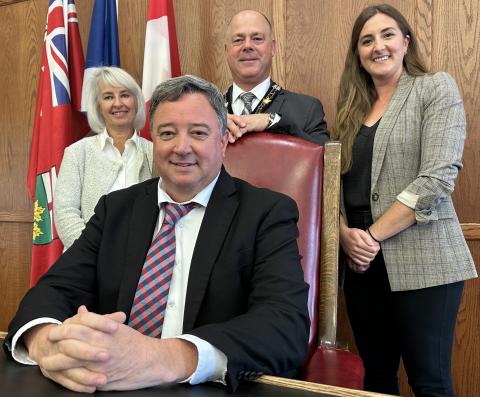 Warden-elect Jamie MacDonald, seated, is flanked by SDG Counties CAO Maureen Adams, Warden Tony Fraser and Director of Corporate Services/Clerk Kimberly Casselman.
THE COUNTIES, Ontario – Jamie MacDonald has been selected as the 2024 Warden-elect of the United Counties of Stormont, Dundas and Glengarry.
MacDonald, who was also acclaimed as Mayor of the Township of North Glengarry during the 2022 municipal election, has been a member of Counties Council since 2012.
MacDonald was nominated for the role by Coun. Frank Landry. Coun. Marc St. Pierre seconded the nomination.
"I want to work as a team. We have a great staff here and my priority will be to build upon the successes we have solidified in SDG Counties," said MacDonald.
Council decides every autumn who will sit as Warden for the coming year.
MacDonald was first elected to North Glengarry council in 2006. Following his run as a councillor MacDonald was elected as deputy mayor in 2012 and ascended to the mayor's chair in 2018.
He was previously Warden of SDG Counties in 2016 and 2018.
Coun. Bryan McGillis had also put his name forward this year.
MacDonald will be officially sworn-in as Warden in December.