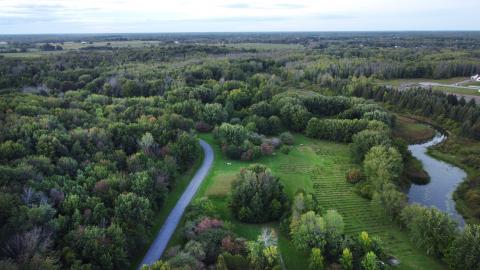 THE COUNTIES, Ontario - Visitors at the Raisin Region Conservation Authority's (RRCA) Gray's Creek Conservation Area can now discover and learn about more than 30 native tree and shrub species thanks to a new self-guided arboretum tour at the popular greenspace in South Glengarry just east of the City of Cornwall. 
"Gray's Creek is home to wide variety of native trees and shrubs, and each have unique names, stories, characteristics and uses," said Claudia Munafo, RRCA's Administrative and Outreach Assistant. "From the majestic basswood loved by pollinators for its midsummer blooms to the beaked hazelnut with its bizarre-looking fruit, there is so much to learn about the native trees and shrubs that live in our area."    
Visitors can stop by the RRCA office at Gray's Creek to grab an arboretum map or download one at rrca.on.ca/Trees prior to starting on the tour, which begins at RRCA's one millionth tree planted since 1994 and ends at an edible forest. Featured trees are marked with a sign providing the tree's scientific name, its common name in several languages, and general information and planting tips.  
"To dig deeper, visitors can also scan a QR code on each sign, which leads to more information compiled by the RRCA as well as photos, videos, and even recipes for species that are edible," said Munafo. "The Arboretum is also helpful for property owners wanting to have a look at mature specimens prior to selecting species when participating in our tree planting programs." 
The RRCA works with public and private property owners to plant trees in its watershed jurisdiction to increase the region's tree cover, which helps mitigate flooding and erosion and delivers multiple ecological benefits. The Conservation Authority is currently booking site consultations for landowners looking to plant 500 trees or more. For smaller projects, the RRCA also offers an over-the-counter program for both seedlings and potted stock.  
The RRCA gratefully acknowledges support from the TD Friends of the Environment Foundation for the Gray's Creek Arboretum. For more information about the Arboretum as well as the RRCA's forestry programs, visit rrca.on.ca/Trees or contact (613) 938-3611 or info@rrca.on.ca.