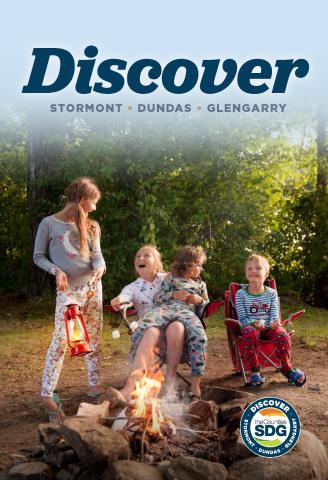 THE COUNTIES, Ontario – The new look of SDG Tourism's 2023 Discover Guide brings a fresh perspective on the countless tourism amenities, businesses and people that make our region a wonderful place to visit.
Approximately 40,000 Discover Guides will be distributed throughout our region, and the Highway 401 corridor from Toronto to west Quebec, at a number of businesses and attractions.
This year's Discover Guide includes a revamped format, that focuses on specific amenities in our region, like local food, wine, agri-tourism, recreation and accommodations.
"We're really proud of this new, purpose-driven Discover Guide that is both inviting and informative," said Karina Belanger, SDG Tourism coordinator. "We are all looking forward to an amazing 2023 tourism season. Look for our regional tourism ambassadors this summer, who will be out at a variety of community events and fairs."
This year's Discover Guide cover features the children of a couple of local families enjoying camping at Milles Roches Campsite in South Stormont.
"The beauty of our guide is that it is perfect for visitors to our region, as well as staycationers who may live here, but also enjoy events and attractions right next door," said Belanger.
To secure a copy of the Discover Guide, visit any of a number of tourist attractions in our region, or reach out to us directly at whereontariobegan.ca.