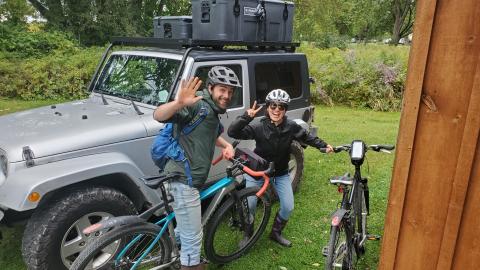 THE COUNTIES, Ontario – The United Counties of Stormont, Dundas and Glengarry has been named as a finalist for the 2022 EDCO Awards of Excellence, thanks to its successful Date My County resident attraction contest.
SDG Counties was recently advised that the Date My County program is being feted alongside other finalists under the 'Workforce Development & Resident Attraction – Rural Award' category at the annual Economic Developers Council of Ontario (EDCO) Awards of Excellence.
The event takes place Feb. 9, 2023 in Toronto.
This year SDG Counties launched Date My County with great aplomb, encouraging applicants to vie to become an SDG brand ambassador and live rent free in our region for 12 months. The application process saw 177 individuals apply. Michael Bricteux and Emily Tohana, a couple from Montreal, Que. will make the move to SDG Counties next year to begin their love affair with our region.
The goal of Date My County is to market our region to remote workers and others looking to leave the rat race of the big city and live in a rural setting that offers a better quality of life.
"It is a great honour for SDG Counties to be named by EDCO as a finalist in the 2022 EDCO Awards of Excellence," said Economic Development Manager Tara Kirkpatrick. "We designed the Date My County contest as a marketing vehicle to show other Canadians what our region has to offer and to let them know that there are opportunities available for them here.
"The response was astounding. Our campaign went viral and attracted attention from around the world. We had 177 people apply and tell us that they wanted to live out the Canadian dream in SDG Counties. Our doors are open and our message is out there. Come make SDG Counties your home."