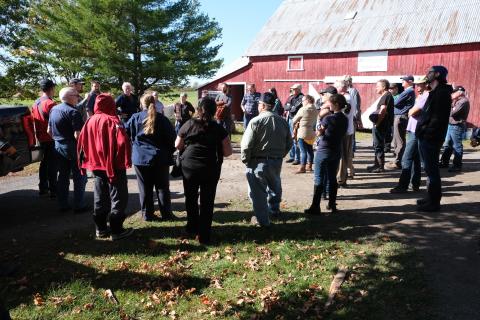 THE COUNTIES, Ontario - A bilingual agri-action stewardship tour is taking place on Sept. 12 to view local farm demonstration projects in its eastern Ontario area of operation. 
"ALUS Ontario East works with farmers and ranchers to enhance ecosystem services on marginal, uneconomic, and fragile areas and on lands that can be managed to enhance environmental stewardship while integrating with their existing farming operations," said Brendan Jacobs, ALUS Ontario East Coordinator. "In exchange for managing and maintaining these projects, which benefit both their farm and the wider community, ALUS participants receive an annual payment for every acre enrolled in the program." 
Farmers and ranchers are invited to join the Agri-Action bus tour to learn more about ALUS and additional funding opportunities administered by the Raisin Region and South Nation Conservation Authorities, such as local tree planting subsidies. 
The bus tour will start at 9 a.m. at the Raisin Region Conservation Authority (RRCA) administration office (18045 County Road 2, Cornwall, ON) and return at 4 p.m. Tour participation is free, and lunch and refreshments will be provided. Participants should wear comfortable field clothes and sturdy footwear. 
"During the tour, we will showcase projects at several farms, such as constructed or enhanced wetlands, buffers, grasslands, erosion control, tree planting, and more," said Jacobs. "As spaces are limited, farmers are encouraged to secure their bus seat today at rrca.on.ca/events or by contacting (613) 938-3611 ext. 224 or info@rrca.on.ca." 
This project was undertaken with the financial support of the Government of Canada through the federal Department of Environment and Climate Change. The project also received funding support from the Government of Ontario.
For more information about ALUS Ontario East, visit ALUSOntarioEast.ca or contact (613) 938-3611.