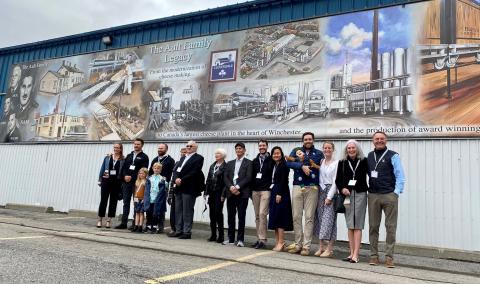 THE COUNTIES, Ontario - The Ault family legacy will live on for generations to come.
The Township of North Dundas, in partnership with Lactalis Canada, unveiled a beautiful new mural at the arena in Winchester, now named the Sam Ault Arena. In addition to the arena naming, the township also announced a ceremonial road naming for part of Main Street in honour of the Ault family.
North Dundas Mayor Tony Fraser says Sam Ault was a community builder, who was instrumental in bringing a new high school, park, curling club and hockey arena to Winchester.
"He was also the premier leader of the modernization of the cheese industry in Ontario," said Fraser, "but he was more than just a leader in his industry…he was a leader in our community."
Fraser said Sam Ault was the type of man who never sought recognition, but was always deserving of it.
"For years to come, parents will drive along Ault Way to drop their kids off at the Sam Ault Arena to play hockey or go skating."
Mark Taylor, President & CEO of Lactalis Canada, said when he arrived in Canada three years ago from the U.K., the Winchester plant was one of his first stops.
"I was quickly brought up to speed on the plant's history and one of the things that really struck me was the tremendous impact Sam Ault and the Ault family had on this community."
He explained that in 1997, Parmalat Canada, now Lactalis, acquired the Astro, Black Diamond, Balderson, Beatrice and other Ault Foods brands.
"Lactalis Canada takes great pride in building on the Ault legacy and in preserving the craftsmanship and high quality behind these beloved products," Taylor said.
Taylor noted that the purpose of Lactalis Canada is to enrich and nurture the lives of Canadians.
"For us, this extends to the communities we live and operate in across the county – whether it's supporting our people, the communities we belong to, the residents, or the farming and agriculture communities in the region. In Winchester, our plant is made up of a 300 strong team. We place great importance on job creation in the area, investing in the development and training of our people and ensuring their health and safety so that we can help build a productive community."
Eric Duncan, MP for Stormont-Dundas-South Glengarry, said the mural is a fitting tribute to a gentleman and family that has done so much for so many in the community.
"The number of families that took home a good paycheck and provided a great quality of life to a lot of people over many, many years," he said. "We owe a great deal of thanks for that."
Allan Armstrong, Warden of Stormont, Dundas and Glengarry / North Dundas Deputy Mayor, said he never had the honour of meeting Sam Ault.
"But I will say that I've gotten to know Stephen Ault very well and members of his family," Armstrong said. "If nothing else is true, we become and carry on traits of our family that are passed down just by living together and the measure of Stephen Ault is second to none, so I can only assume that Sam was exactly what people purport him to be."
He extended thanks to the entire Ault family for the dedication they have shown to the community.
"It's not lost on me or anyone in this township that the two names tied to this arena are Joel Steele and Sam Ault and I don't think we could've done any better."
After the unveiling, members of the Ault family in attendance gathered under the mural, which was created by local artist Carrie Keller. Sheldon Shane, of Shane Signs, took Carrie's painting and turned it into what the community sees today.