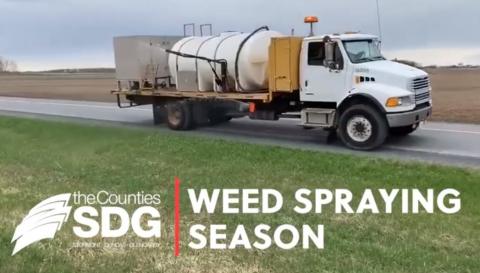 THE COUNTIES, Ontario – As part of the region's vegetation management program, the United Counties of Stormont, Dundas and Glengarry and all the local municipalities will be spraying noxious weeds. 
The work is scheduled to start May 15 and should be completed by mid-June, depending on weather conditions.
Information about the program, roads and guiderails that will be treated, how to erect "no spray" signs in front of your property and notify the Counties of signs can be found at sdgcounties.ca/services/transportation/weed-control.
"The program which will be undertaken targets unmaintained rural roadsides where the proliferation of weeds can impact adjacent fields," said Benjamin de Haan, Director of Transportation Services. "The roads that have been selected for treatment are roads with the highest weed pressures."
Quick Facts
The main purpose of the Weed Control Act, R.S.O. 1990, is to reduce the impact of noxious weeds on the industries of agriculture and horticulture. 
In 2023, the Counties will be treating approximately 800 kilometres of ditches
Residents can digitally identify where they have installed 'no-spray' signs on the Counties' website. This information will be provided to the contractor.