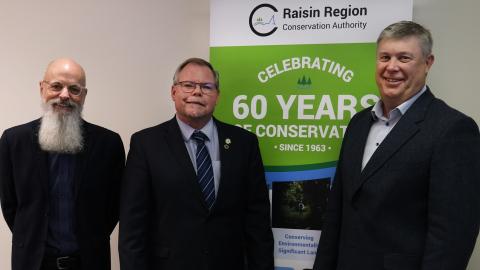 THE COUNTIES, Ontario - The Raisin Region Conservation Authority's (RRCA) Board of Directors re-elected Martin Lang as RRCA chair and elected Bryan McGillis as the new vice-chair. Both are SDG Counties Councillors and were acclaimed to the positions. The elections were held during the Conservation Authority's annual meeting held on Jan. 19, at the RRCA office at Gray's Creek Conservation Area.
A well-respected local farmer, Lang has served on the RRCA Board for the last four years and was first elected chair in January 2022. He has also served his community of South Glengarry since being elected to the township council, first as a councillor in 2018, and then as deputy mayor after last year's municipal elections. Lang's rapport with the local farming community is a strong asset to the RRCA, as the majority of the conservation authority's jurisdiction consists of agricultural property. 
"Thank you, everybody, for the support and the chance to chair a second year," said Lang. "I look forward to this year."
McGillis, has been on the RRCA board for a total of 15 years, having also served as vice-chair and then chair.
"I'm impressed with the work, and the volume of work that the RRCA does," said McGillis. "It's a pleasure to be vice-chair again."
The RRCA's eight-member board of directors consists of representatives from its five member municipalities: the City of Cornwall and the Townships of South Glengarry, North Glengarry, South Stormont, and North Stormont. The board oversees the conservation authority's budget, programs, and services.
Since 1963, the RRCA has been protecting people, property, and the environment through provincially mandated and RRCA board mandated programs and services. 
"Under the board's leadership, the RRCA offers watershed-based, environmental services to the community in ways that balance the protection of our environment and natural resources with human and economic needs," said RRCA General Manager Richard Pilon. "These include supporting safe and sustainable development, protecting municipal drinking water at the source, conserving environmentally significant land, fostering landowner stewardship, and providing recreational opportunities."
This year the RRCA is celebrating 60 years of conservation since 1963 and is looking forward to its planned initiatives for 2023. The conservation authority will launch its anniversary celebrations during a World Wetlands Day public event hosted in partnership with the Mohawk Council of Akwesasne on Feb. 4, from 10 a.m. to 2 p.m. at Cooper Marsh Conservation Area. RRCA staff are also gearing up to begin planting 55,000 trees throughout Cornwall and surrounding area of SDG this spring. The RRCA's conservation areas are also ready to greet boaters at Gray's Creek Marina which opens on May 1, and campers at Charlottenburgh Park, which is set to open on May 19.