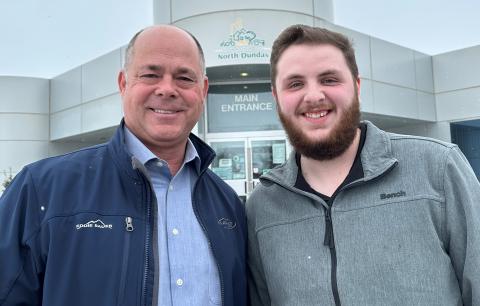 SDG Counties Warden Tony Fraser, left, and Connor Mockett.
THE COUNTIES, Ontario – When you think of weather in North Dundas, two words often come to mind: Connor Mockett.
The unofficial meteorologist of the region has become a fan favourite among residents who want to know his thoughts on looming snowstorms, the potential for rainy days, or his favourite: chasing storms.
Mockett has turned an enthusiasm for all things weather, and a passion for storms and storm-chasing, into a full-time hobby that has spun up into what is essentially a full-time commitment to keeping his neighbours, friends and the community updated on just about everything Mother Nature can throw at us.
His social media posts are shared and reposted thousands of times, and Mockett's forecasts are must-read material for anyone who plans an outdoor event or wonders about bus cancellations.
"I had no idea that it would become this big," said Mockett, who fell in love with storms when he was just a kid waiting for the school bus each morning. "I was nine or 10 years old and I would watch 'Storm Chasers' on the Discovery Channel before leaving for school. I became fascinated with storms."
No kidding.
The now 22-year-old has become an amateur storm chaser himself, spending the summer months studying weather models, plotting storm tracks and heading out into the belly of the beast to follow storms as they tear across the countryside.
Just how popular have his family-friendly forecasts become? At the end of 2021 Mockett said his followers measured up at around 750. Just a year later that number swelled to 25,000.
The responsibility of engaging such a large audience and realizing the content of his posts help local residents plan their day-to-day, is not lost on Mockett.
"This is all kind of surreal," said Mockett, who has become somewhat of a celebrity in Winchester. He works at a Winchester grocery store, Foodland, and weather fans regularly approach Mockett with kudos. "I get recognized every day at the store. It's usually people who just want to come up and say 'Hi Connor!'"
Store owner Dan Pettigrew said Mockett has blossomed into a valued employee and a familiar face – a force of nature, some might say.
"Connor has so many followers and so many people come up to him at the store," said Pettigrew. "It has been wonderful to watch him embrace his work responsibilities and also find time to engage with customers. To watch that evolution has been incredibly rewarding."
Mockett's forecasts are largely based off modelling provided by a pair of websites, weatherbell.com and pivotalweather.com.  Mockett points out his work is just a hobby, and residents are encouraged to get their weather forecasts from a variety of respected sources.
"The first storm I ever chased was with my dad (Robert) when I was 14 years old," said Mockett, who added he and his dad careened across the countryside near their Winchester home trying to get a glimpse of something special. "Now I'm trying to turn this into a career."
Mockett said his winter weather hobby focuses on forecasting snowstorms and the like. But once May rolls around he will pivot to storm-chasing and forecasting. He already has plans to head to Alberta for this year's storm season out west, hoping to get that elusive photo of a tornado in action.
You can follow Mockett on Facebook by heading over to facebook.com/ConnorMockettWX. He also has a bi-weekly column in the North Dundas Times, which you can read here ndtimes.ca/the-weather-with-connor/