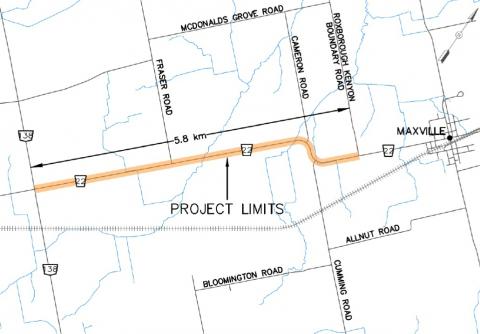 THE COUNTIES, Ontario - The United Counties of Stormont, Dundas and Glengarry has retained BT Engineering Inc. to undertake Engineering Services for the reconstruction and drainage improvements for County Road 22. The project will complete the design for the reconstruction including relocation of utilities (if required) and municipal drains to accommodate potential road widening. The project limits extend from Roxborough Kenyon Boundary Road westerly to Highway 138.
At this time, property impacts are unknown and dependent on the design.
 STUDY PROCESS
The project is being conducted as a Schedule A+ Municipal Class Environmental Assessment (MCEA) (2015). The project is pre-approved for construction with this mandatory public notice. If property acquisition or adverse environmental impacts are identified during the design, the project may be elevated to a Schedule B MCEA project. If the project is elevated to a Schedule B, a public notice will be provided at that time. The Study will proactively consult with the public, stakeholders and Indigenous Peoples.
PUBLIC CONSULTATION
Public Information Centre: A Public Information Centre (PIC) will be held to present the Preliminary Design drawings and potential property impacts. The goal of the PIC event is to engage the public/stakeholders on their perspectives and interests in the project and present the reconstruction recommendations. Notice of the PIC will be advertised prior to the event. It is tentatively scheduled for Fall 2022. Members of the public wishing to be included on the contact list and be given notice of the event can contact either of the Project Managers below.
There is an opportunity at any time during the Class EA process for interested persons to provide comments. Early identification of individual and group concerns greatly aids in addressing these concerns. All information will be collected in accordance with the Municipal Freedom of Information and Protection of Privacy Act (2009). With the exception of personal information, all comments will become part of the public record.
For more information or if you wish to be placed on the study's mailing or emailing contact list, contact either:
Steve Taylor, EA Project Manager